Fresh Cheese with Butter - Ferme Bidelot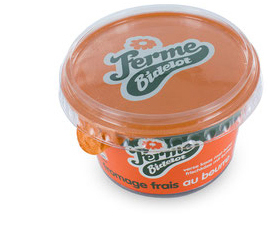 'All the pleasure of butter in a fresh cheese'
This fresh cheese is made using milk from Pays de Herve pastures. Once the cheese has been drained it is enriched with small pieces of butter.
Characteristics
Fresh cheese made from pasteurised skimmed cow's milk enriched with butter.
Format: 200 g pot, 1.5 kg bucket, 3 kg bucket, 5 kg bucket.