Low-fat Fresh Cheese - Ferme Bidelot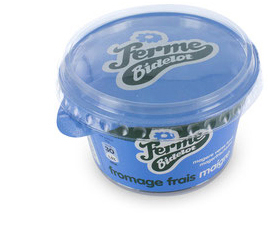 'Natural, delicious and fat-free'
This fresh cheese is made using skimmed milk from Pays de Herve pastures. It has a smooth texture and a very fresh flavour on the palate, revealing the delicate acidity characteristic of traditional fresh cheeses. It is perfect for anyone looking for a natural food which is low-calorie yet still tasty. This natural product serves as an excellent foundation for numerous fresh-cheese-based recipes.
Characteristics
Fresh cheese made from pasteurised skimmed cow's milk.
Format: 200 g pot, 500 g pot, 1.5 kg bucket, 3 kg bucket, 5 kg bucket.