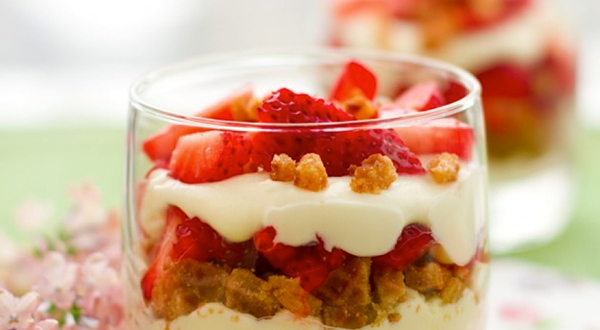 Ingredients (serves 4)
200 g Ferme Bidelot 'Fromage Frais Nature'

200 ml custard

250 g strawberries

4 slices pound cake

4 tsp sweet white wine

A few mint leaves
Instructions (10 min.)
Cut the strawberries in half and place in glasses or ice-cream bowls. Place the slice of cake on top of the strawberries. Pour a teaspoon of sweet white wine over the slice of cake.
Mix the fresh cheese and custard together in a bowl. Pour the mix into the glasses.
Finish by garnishing with some strawberry halves and one or two mint leaves.
Variations: for a lighter recipe, add stiffly beaten egg whites to the fresh cheese and custard mixture.