Plain Fresh Cheese - Ferme Bidelot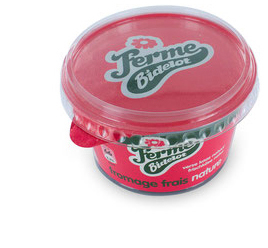 'The smoothest and most flavourful of the traditional fresh cheeses'
This fresh cheese is made using skimmed milk from Pays de Herve pastures. It is enriched with fresh cream to make it smooth and creamy. This product is equally delicious on toast for breakfast, as a dessert, or in any other gourmet recipe based on fresh cheese.
Characteristics
Fresh cheese made from pasteurised skimmed cow's milk enriched with cream.
Format: 200 g pot, 500 g pot, 1.5 kg bucket, 3 kg bucket, 5 kg bucket.